Welcome to the Bryn Mawr Neighborhood Association's new page of sponsored activities and ways to help at a distance. While we can't gather in the many ways we're used to, we can still come together. If you have an idea to propose, please contact McKenzie Erickson at events@bmna.org. Updates for all of these events can also be found on our Facebook page.
The health and safety of our community is our top priority. While participating, please keep at least 6 feet from others and consider wearing a mask. We are following the state guidelines for physical distancing.
When taking part, please also take pictures and post on Facebook and Instagram using the hashtags
#BrynMawrTogetherApart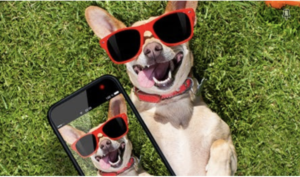 Pet Photo Contest
June 8th – July 6th
Pets provide comfort and love, things we need during this time. Please post to Facebook and/or Instagram a photo of your pet with #BrynMawrTogetherApart. Perhaps your pup at a protest, your guinea pig lounging in the yard, or a neighbor's cat out exploring. Maybe there's a costume involved… get creative! The prize is a $25 gift card to the winner's Bryn Mawr business of choice. Let's see your pet pics!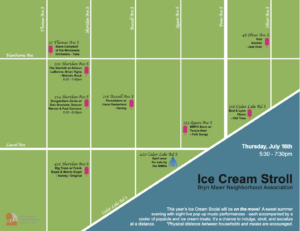 Ice Cream Stroll
Thursday, July 16th 5:30 – 7:30pm
This year's Ice Cream Social will be on the move! A sweet summer evening with eight live performances popping up throughout central Bryn Mawr – each accompanied by a cooler of individually packaged popsicle and ice cream treats. It's a chance to indulge, stroll, and socialize at a distance.
Physical distance between households and masks are encouraged. Please see the Facebook event for up to date info and to RSVP.

Yoga in the Meadows
Saturday 10-11am 7/11, 7/25, 8/8, 8/22
Summer Series
Because yoga in June was such a success we've decided to keep it going into July and August! Please join us for this new ritual of rest and relaxation. A $5 donation to the instructor is suggested.
7/11 – Liana Sun
7/25 – Kara Lovemelt
8/8 – TBD
8/22 TBD
Outdoor Yoga Tips: Please come 5-10 minutes early to place your mat approximately 10 feet away from others. Remember to bring sunscreen, plenty of water and maybe a towel. If you'd like a little extra non-grassy coverage around your mat, consider bringing a light blanket to place under it.
For those that came last time, we've found a shaddier spot in the middle of Bryn Mawr Meadows Park and will have a better PA system.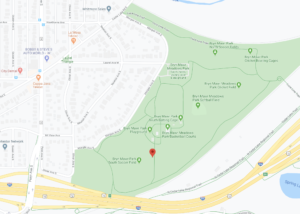 Physical distance between households and masks are encouraged. Please see the Facebook event  for up to date info and to RSVP.
Help Document History
On Going
The Minnesota Historical Society is documenting this historical time with stories. They are asking people to submit written stories, observations, videos, images, or sound files. More information can be found on their website.
The Hennepin History Museum is also seeking stories via a short on-line survey county residents can share their personal stories and contribute to the historical record of these unprecedented times. The survey can be found here.
Something is wrong.

Instagram token error.