Southwest Light Rail Transit (LRT) Overview - What the Southwest LRT means for Bryn Mawr
The proposed Southwest LRT line will be a high-frequency train serving multiple Minneapolis neighborhoods including Bryn Mawr. It will extend from downtown Minneapolis to the southwest suburbs, and will serve St. Louis Park, Hopkins, Edina, Minnetonka and Eden Prairie. The 15-mile Southwest LRT line will connect to other rail lines (Hiawatha, Central, and Northstar) and high-frequency bus routes in downtown Minneapolis, providing access to the University of Minnesota, Minneapolis-St. Paul Airport, Mall of America, the State Capitol, and downtown St. Paul. At rush hour times, trains will leave stations every 7.5 minutes.
The transit-way has been studied by the Hennepin County Regional Railroad Authority and the Metropolitan Council Regional Transit Board since the mid-1980s. In October 2012, the Draft Environmental Impact Statement (DEIS) for the project was issued and preliminary engineering has since been started by the Metropolitan Council.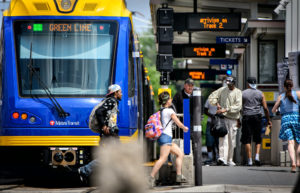 The proposed project includes two stations in Bryn Mawr; the Van White Station and the Penn Avenue Station. The Southwest LRT represents a significant development in Bryn Mawr and will have impacts both good and bad. The neighborhood has been represented on Community Advisory Committees established by Hennepin County, the Metropolitan Council and the Minneapolis Park and Recreation Board. The BMNA has passed resolutions and been an active participant in Station Area Planning activities and public hearings.
On November 20, 2012 Bryn Mawr neighbors met to review the Draft Environmental Impact Statement (DEIS) for the Southwest LRT project in order to discuss comments that might be submitted by the neighborhood. Please click on the links below to read more:
In May 2015 the Southwest LRT Corridor Management Committee proposed a re-evaluation of the southwest LRT line in hopes of lowering the total cost of the project. This new proposal eliminates the Penn Station in the Bryn Mawr Neighborhood. Here is BMNA's response to this proposal: Support Penn Station
If you have questions about LRT, click here or contact Bryn Mawr Area Representatives:
Barry Schade: 612-377-8152 or at barry.schade@bmna.org
Jay Peterson: 612-377-4677 or at jay.peterson@bmna.org
Below are links to additional information that relates specifically to Bryn Mawr and the potential impact that the LRT project may have on the Bryn Mawr neighborhood:
Kenilworth Corridor
City of St Louis Park says freight trains could be kept in Kenilworth corridor
Southwest LRT Charrette
Charrette Notes
Charrette Drawings and Photos