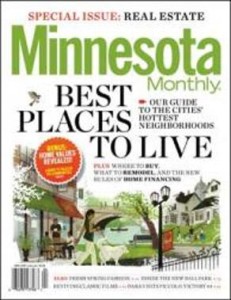 Bryn Mawr named one of the "Best Places to Live" by Minnesota Monthly Magazine – April 2010
Bryn Mawr is a wonderful place to live. Most of the people who live here agree on this. Recognition of Bryn Mawr as one of the most livable places in the metropolitan area pleases but does not surprise Bryn Mawr residents.
Bryn Mawr is a thriving south side Minneapolis neighborhood located directly west of downtown Minneapolis. A part of the Cedar-Lake-Isles Planning district, it is in the northwestern corner of the 7th Ward. Bryn Mawr was developed from farmland beginning in the mid-1800s when it was promoted as a "garden suburb" or "amenity zone," because of its proximity to the lakes and an abundance of green space. Pocketed roughly between Kenwood, Cedar Lake, Wirth Park, Bassett Creek, and Bryn Mawr Meadows, the neighborhood is characterized by its long-time stability and its quietude. It remains surrounded by over 650 acres of parks, lakes, and trails, and retains much of its original small town charm, while having very good access to some of the best urban and natural features of Minneapolis and the nearby suburbs.  It features a unique and active business district that offers residents walking-distance amenities that include services, refreshments and shopping opportunities.
Bryn Mawr is the northwestern anchor to the Minneapolis' beautiful chain of lakes, yet it is just minutes from shopping and business centers; a number of important historic sites; a wide
variety of cultural and entertainment venues; two major sports facilities; and several colleges and universities. A diversity of building styles reflects Bryn Mawr's history, from Victorian to Tudors, Colonials, Bungalows, Ramblers, and Contemporaries.
Bryn Mawr is a stable and desirable neighborhood, with a low crime rate and a percentage of active voters that exceeds that of both Minneapolis and Ward 7 by several points. Its residents have moderately high levels of education and income. Bryn Mawr residents are also fortunate to have an elementary school, Bryn Mawr Community School, and a middle school, Anwatin International Baccalaureate Middle School and Spanish Dual Immersion, located right in the neighborhood.
New to the Neighborhood?
Visit our New Neighbors page for tips on how to make yourself at home in the best place you have ever lived.  Welcome!!
Maps of Bryn Mawr
View Bryn Mawr Neighborhood Map (Areas)