Join the Bryn Mawr Garden Committee
As a neighborhood, Bryn Mawr has a strong gardening tradition. This includes ongoing, public beautification projects and the more private efforts that make Bryn Mawr one of the most lovely of neighborhoods. We are proud of our public spaces, the iconic Bryn Mawr Hedge that heralds the entrance to our neighborhood and the many, many beautiful gardens created by residents. Our dedicated group of volunteers that comprise the Bryn Mawr Garden Committee manage the upkeep of our public spaces. Click here if you are interested in learning more about the Garden Committee or if you want to volunteer to help in the greening of Bryn Mawr. For all questions about the Garden Committee, please email gardens@bmna.org.
Bryn Mawr Garden of Hope and Healing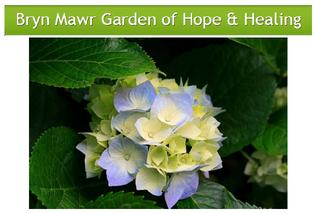 After the tragic shooting at Accent Signage in 2012, a committee of Bryn Mawr residents formed to create a Garden of Hope and Healing as a remembrance and contemplative space. Through grants from UPS, the Keith Basinski family, the Bryn Mawr Neighborhood Association, and many others, this space was realized in 2015, hosted by the Bryn Mawr Presbyterian Church in the downtown center of Bryn Mawr. This garden is a reflection that, in Bryn Mawr, we are choosing a path of hopefulness as we move forward beyond tragedies of violence.  This new space is the latest addition to the set of Bryn Mawr community gardens available for all to enjoy.